I feverishly watch college football all season from September to January – even teams & games I don't like – which my girlfriend really doesn't understand.  However, one team I pay particularly close attention to is Boise State.
Becoming a Bronco fan & recent team history 
I've been a Boise State football fan for a loooong time having grown up in Boise and graduating from Boise State. Fortunately, I don't remember a whole lot of the twelve year losing streak to University of Idaho (1982-1993). My earliest good memories of Bronco football are of Tony Hilde chucking bombs to Ryan Ikebe during the 1994 season when the Broncos were Big Sky Champs and 1-AA National Runner up to Youngstown State. From there the Broncos had a few up and down years until 1999 when coach Dirk Koetter lead the team to a 10-3 record, the Big West Conference Championship, and Humanitarian Bowl victory over Lousiville. This is often considered the beginning of Boise State's climb toward becoming the "BCS Busters" of today.  Oh yeah, and 1999 was also the beginning of our current eleven year win streak against the Vandals with a chance for number twelve this year. Can't forget that! 
2009 recap 
Last years team was lead by seniors Richie Brockel and Kyle Wilson. The season started with the most anticipated home game in school history matching #16 Oregon vs #14 BSU.  The Broncos went on to beat the Ducks 19-8 and carried that momentum through the regular season to finish 13-0.  As a sophomore, quarterback Kellen Moore completed 64.3% of his passes, for 3536 yards, 39 touchdowns, and 3 interceptions.  The Broncos were rewarded with their second Fiesta Bowl invitation in four seasons. Their opponent was #4 TCU (12-0) in a match-up of unbeaten, "non-BCS" teams. Boise State went on to win the game 17-10 after perfectly executing Riddler.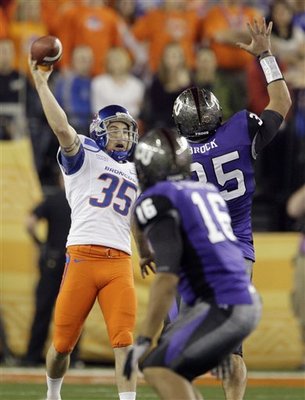 2010 
The Broncos begin the 2010 season with insane expectations. The team returns 22 of 24 starters, begins the season ranked in the top 5 of the AP & Coaches Poll, and has marquee match-ups at Virginia Tech (Sept. 6th) and vs Oregon State (Sept 25th) which is leading to talk of the Broncos potentially reaching the BCS National Championship Game. 
Questions entering 2010 season 
Since the team is returning so many starters there aren't many concerns heading into the season; however, a few remaining questions include:    
How well does the offensive line play together? 
The starting offensive line has yet to be decided by O-line coach Chris Strausser. During the offseason, All-WAC left tackle Nate Potter transitioned to left guard, although the newest report is that Potter might be playing left tackle with Joe Kellogg at left guard… As Chadd Cripe mentions in the article – Brenel Myers will start at right tackle, Will Lawrence is the right guard, and Thomas Byrd is the starting center. The group has plenty of experience and talent, but are they ready for Bud Foster's defense with such little time together as a unit?
How well does the defense transition from Justin Wilcox to Pete Kwiatkowski?
via daylife.com
Pete Kwiatkowski is replacing Justin Wilcox who left to become Tennessee's Defensive Coordinator. Last years defense lead by Wilcox ranked 3rd in turnovers forced and 14th in overall defense. Kwiatkowski – former All-American defensive lineman from 1984-1987 for the Broncos – was the defensive line coach from 2006-09 (and previously from 1988-1996) before being promoted to Defensive Coordinator upon Wilcox's departure.  Coach Kwiatkowski –  who was the D-Coordinator at Montana 2001-05 – worked closely with Wilcox in creating the defensive game plan each week so there isn't expected to be much of a drop off, but who knows? There will surely be a few tweaks to the defense by Kwiatkowski.  I just hope he has been preaching sound tackling and has the wrinkles ironed out by week one against Virginia Tech – stopping Darren Evans, Ryan Williams, & Tyrod Taylor will not be an easy task.
Who is going to provide depth at safety and wide receiver?
Starters at safety and wide receiver are well established with Jeron Johnson at strong safety, George Iloka at free safety, and Winston Venable playing the nickel/hybrid. Seniors Austin Pettis and Titus Young are all but guaranteed to start at wide receiver.
Juniors Travis Stanaway and Cedric Febis back up Johnson and Iloka – most of their experience consists of mop-up duty.  Highly recruited true freshmen – Jeremy Ioane could earn some playing time as he's beginning to adjust to life away from home in Hawaii.  Venable's backup at the nickel/hybrid is a special teams standout and former starter Jason Robinson who is suspended three games to start the season. The other backups at the nickel/hybrid position are former linebacker Hunter White and redshirt freshman Jonathan Brown who have limited experience at the position.
The list of backup wide receivers is long and full of potential with junior Tyler Shoemaker, sophomores Kirby Moore, Mitch Burroughs, Chris Potter, and redshirt freshmen Geraldo Hiwat and Aaron Burks.  But the question remains; who will separate themselves from the pack?  I think Kirby will begin to take snaps from Shoemaker in the slot and it will be interesting to see if Potter and Burroughs can hold off the tall, athletic freshmen Hiwat and Burks.
And lastly can Jamar Taylor replace Kyle Wilson at cornerback?
Sophomore Jamar Taylor appears set to takeover the corner spot vacated by All-American Kyle Wilson.  Clearly it's never an easy task replacing a player with the pedigree of KW, but I think Taylor will be up to the challenge. Taylor played in all 13 games as a true freshman and was competing for a starting spot when he injured his knee last August which lead to him redshirting the '09 season.  Taylor's speed, physicality, and athleticism should serve him well at the corner position and provide the Broncos with a more than adequate replacement for KW – I'm expecting good things from Taylor this year.
Games to watch
Many Bronco fans have come to expect undefeated seasons – which isn't necessarily a bad thing – but we've also been a little spoiled by Coach Pete's unbelievable 47-2 regular season record and 49-4 overall career record.  The 2010 Season will likely be defined by the games against Virginia Tech and Oregon State but a couple games to watch out for are at Wyoming Sept. 18th, at University of Idaho Nov. 12th – nice job President Kustra - and at Nevada Nov. 26th. 
My Expectations
I'm expecting Boise State to finish the regular season 12-0 and earn a second straight BCS Bowl birth.  The opener against Virginia Tech will be close but Kellen Moore will be able to take advantage of a re-building Hokies defense and Coach Kwiatkowski will have the defense ready to at least slow down Tyrod Taylor, Ryan Williams, and Darren Evans.  The Rodgers brothers will make things interesting for awhile but the Broncos will pull away from the Beavers in the second half.  Idaho might keep it close for a quarter or two but having to re-build both lines could be trouble for the Vandals this year, especially against the Broncos. And lastly, Colin Kaepernick will keep Nevada close until his poor accuracy (and NFL caliber arm) ends the Wolf Pack's chances.  Unfortunately I don't have any faith in the "BCS System" and think the Broncos will be left out of the National Championship Game but will instead receive an invite to the Rose Bowl or Fiesta Bowl.
A couple players I plan to keep an eye on this season – other than previously mentioned Jamar Taylor and usual suspects: Titus Young, Doug Martin, Austin Pettis, Ryan Winterswyk, Billy Winn, Jeron Johnson, George Iloka, & Winston Venable – are wide receiver Geraldo Hiwat and running back DJ Harper who is returning from an ACL tear last season.
Only 3 more days Bronco Fans.