Each Friday I will post the top 10 or so games of the upcoming weekend (could be more or less, just depends on what is on) and give a few reasons why I am interested in the games – some will be obvious, others may not. Games will include everything from College Football, to the English Premier League, to the NHL.  
The Triple-Dub – Sept 3rd – Sept 6th  
College Football (2009 record shown): 
Colorado (3-9) vs Colorado St. (3-9) (Invesco Field at Mile High – Denver, CO) – 2:00 PM ET – Mtn
Very few teams start the season playing an in-state rival, which will be the case for these two.  Dan Hawkins is on the hot seat and needs a good start to the season with two of Colorado's next three games @ California (9/11) and vs Georgia (10/2). The Buffs need a win here to try and gain some momentum for the season.
New Mexico (1-11) @ #11 Oregon (10-3) (Autzen Stadium – Eugene, OR) – 3:30 PM ET – OSN/CSN
via dailyemerald.com
Darron Thomas beat out Nate Costa earning the keys to Chip Kelly's spread attack.  Thomas will have help with the return of playmakers – Kenjon Barner, Jeff Mahel, & LaMichael James (when he returns from his one game suspension).  Oregon returns 17 starters which has many predicting them to win the PAC-10 and possibly compete for a National Championship. Ducks should win this game easily but it will be interesting to see how well Thomas runs the offense.
Washington (5-7) @ Brigham Young (11-2) (LaVell Edwards Stadium – Provo, UT) – 7:00 PM ET – CBS College Sports
Jake Locker's Heisman campaign begins in Provo – where Washington coach Steve Sarkisian started at quarterback from '95-'96 – against the Cougs.  I'm a little skeptical of Locker's Heisman chances – I think the Huskies need 9 or 10 wins for him to even have a shot – but a win here with some decent stats would be a good start. BYU will be employing a two-quarterback system with Riley Nelson and Jake Heaps. It should be intriguing to see how this plays out – does Mendenhall play them both all year? Is he just trying to make it harder for Washington to prepare? Or will he eventually settle on one of the two quarter backs? 
#24 Oregon St. (8-5) vs #6 TCU (12-1) (Cowboys Stadium – Arlington, TX) 7:45 PM ET – ESPN
This is a huge game for both teams as James and Jacquizz Rodgers return to Texas. TCU returns 16 starters – including senior quarterback Andy Dalton – from last years Fiesta Bowl team and has an outside shot at the National Championship if they can go undefeated. The Beavers also return 16 starters but have a major question mark at quarterback where Ryan Katz takes over for last years 1st team All-PAC-10 selection Sean Canfield. This is a virtual home game for the Horned Frogs but Oregon St will be trying to disprove their reputation as slow starters. 
#21 LSU (9-4) vs #18 North Carolina (8-5) (Georgia Dome – Atlanta, GA) – 8:00 PM ET – ABC
This game got a whole lot more interesting with the recent NCAA investigation and reports of Butch Davis' Nanny writing papers as a tutor for UNC players.  The NCAA investigation and nanny allegations have lead to speculation that Davis may be on the hot seat.  Word came this morning that 12 Tar Heels will miss the game due to the NCAA investigation.  The folks down in Baton Rouge have been less than pleased with Les Miles after his National Championship in the 2007 season and his pathetic clock management.  The UNC suspensions should be music to Miles' ears as the loser of this game could be in for a long 2010 season. 
#3 Boise St. (14-0) vs #10 Virginia Tech (10-3) (Fed Ex Field, Washington, D.C.) – 8:00 PM ET – ESPN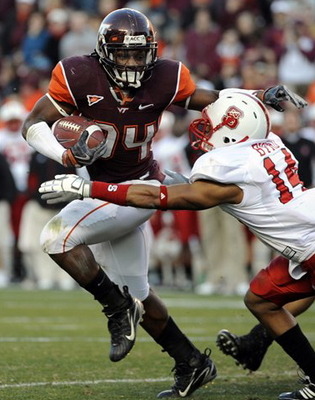 Not sure there is any game on the 2010 schedule that I am more excited/nervous about than this one.  Boise State returns 20 of 22 starters from last years Fiesta Bowl team which has lead to talk of possibly playing in the National Championship game with another undefeated season. All of the National Championship talk will end without a win over a talented Virginia Tech team. The Hokies offense is lead by senior quarterback Tyrod Taylor and running backs Darren Evans and Ryan Williams.  Bud Foster's defense is replacing 7 starters which will surely be in mid-season form by mid-season, but will they be ready for the Broncos shifts and motion on Labor Day weekend?  The biggest question for Boise State is – how well does the defense transition to new defensive coordinator Pete Kwiatkowski? And will he have the Bronco D ready to stop the Hokies two-headed rushing attack of Evans & Williams and Taylor's improved passing game (16 of 17 for 319 yards and 3 TDs in their final scrimmage)? Gobbler Country has a solid preview of the game and what to watch for.
What games will you be watching this weekend? Any additional thoughts on the games above?